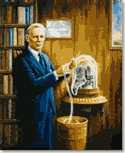 Jesse Lauriston Livermore
July 26, 1877 – November 28, 1940
November 28, 2013 marked the 73rd anniversary of the death of Jesse L. Livermore. To honor this legendary speculator, I decided to share some of the additional bits of information I have accumulated over the past few years.
I was first bitten by an intense interest in Jesse Livermore after reading Richard Smitten's book, The Amazing Life of Jesse Livermore: World's Greatest Stock Trader.  Jesse Livermore is the suspected subject of the investment classic, Reminiscences of a Stock Operator and in some circles is rumored to have been the author. If you are not familiar with Jesse Livermore, I highly recommend reading Mr. Smitten's book, and Mr. Smitten's republication of Jesse Livermore's only published book, How to Trade in Stocks. All of these books are available through Amazon.com.
As noted in Mr. Smitten's book, Jesse Livermore, or "J. L." as he preferred to be called, had several favorite vacation spots to which he retreated during breaks in his trading. One of these locations was Lake Placid, New York.

A view of the Eastern shore of Lake Placid taken from the lake
In late August of 2002, I had the opportunity to visit Lake Placid and to meet with the town historian. I was able to review the archives held in the town library that provided a some insight into how the local press, The Lake Placid News, and the "members only" Lake Placid Club treated J.L. from 1919 through 1940. I was also able to locate his vacation home which was built in 1899 and still stands today over looking the lake.
Most of the information presented would not have been uncovered were it not for the help of the Lake Placid town historian, Beverly Reid. A debt of gratitude is also owed to her predecessor, Mary MacKenzie who spent years collecting and cataloging the news articles and other printed documents, and to Mary Hotaling who prepared a history of the Livermore house. And lastly, to the current owners of the house whom wish to remain anonymous, but have been generous with both their time and information.